Best Kia Three Row Crossover SUV's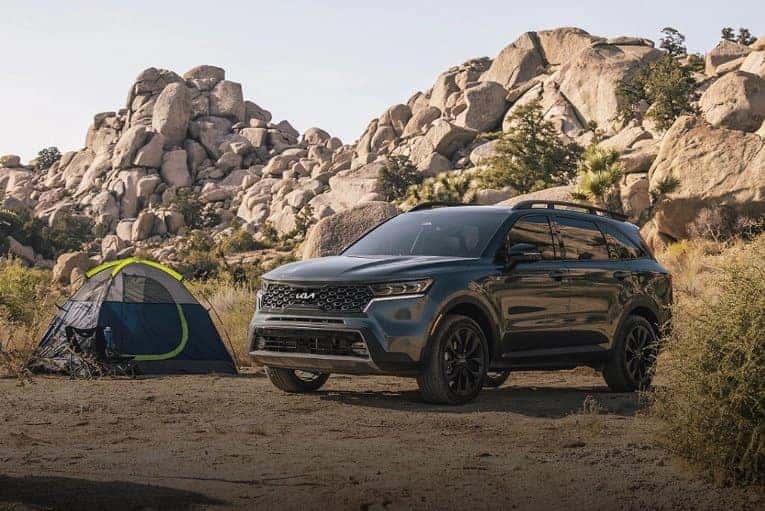 Kia has some of the best Crossover SUVs on the market that meets every large family's needs with three comfortable rows of space for passengers and cargo. Take a look at some of the best to choose from.
Kia Sorento
The 2022 Kia Sorento appears to have the exterior dimensions of a two-row midsize SUV from the outside, yet still manages to squeeze in an extra row to become a three-row crossover SUV. Outside of being a typical three-row crossover, the Kia Sorento is appealing for a handful of other reasons as well. One of the most glaring differences from the outside is that the exterior has been completely redesigned for 2021 compared to previous year models. The Sorento features its own style and flair that allow it to keep up with modern-day competitors, while still maintaining its own identity to differentiate from similar vehicles like its counterpart Kia Telluride. Kia has also added a few different styling options, which include the sportier SX Prestige as well as the rugged X-Line that can now be paired with the majority of the trim levels. Inside of the 2022 Sorento, material quality is much more premium, the design more elegant. and the technology is more advanced. Driver assistance and safety features make their return from last year's model and are slightly improved upon in order to further enforce safe driving. One of the most significant changes has to be that the Sorento is one of the very few three-row SUVs that have a hybrid option. The Sorentos astounding 37 mpg blows most of, if not all of its competition out of the water with incredible efficiency.
Kia Telluride
We've mentioned the Kia Telluride a bit earlier but here is a more informative breakdown on why this SUV is also great in its own way. The Telluride and Sorento are similar in that they share the same fundamental strong points: space, quality, technology, and value. They also both tend to outperform their competitors in terms of accolades. Between the two vehicles, the Kia Telluride has received the greater share of accolades, mostly due to the fact its design seems to be admired by a wider range of people than the Sorento. One of the reasons this may be is because the Tellurides blocky proportions resemble that of a luxury vehicle similar to a range rover with similar details. To make it even more confusing, "Telluride" is written across the hood very similar to how a Range Rover would be. Although it my not look it from the outside, the massive interior of the 2022 Kia Telluride easily makes it one of the best three-row family haulers.